Feldenkrais and Balance
One of Moshe Feldenkrais' often repeated quotes, at least among the community of Feldenkrais practitioners is, "what I am after isn't flexibe bodies, but flexible brains. What I am after is to restore each person to their human dignity." How can this sentiment  help us improve our balance?
In recent discussions with students in my classes and workshops, we have been talking about the purpose of the Feldenkrais Method®, some even asking what is this all about?  I repeat Moshe's words which at first puzzle many people given the seemingly movement focus of the Feldenkrais Method.  We discuss how the Feldenkrais Method is really about retraining our brains, which in turn retrains our bodies, not the other way around.  If we change how we think about things we can direct our bodies to do what we want them to. Our main goal is to learn how to live our lives to their potential and to be more comfortable, physically, emotionally and psychologically.
How do we learn to do things differently? Why do we rest so much in our classes? What is the purpose of imagination and is it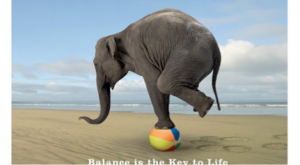 effective? Why the focus on taking care of ourselves? Many important questions, not often discussed in other movement classes.
We also talk about balance. What role does balance have in learning how to live our lives more comfortably?  Do we focus on physical balance only? How does learning how to move differently impact on other areas of balance such as work and home life balance, balance between many life roles, etc.
From the Feldenkrais perspective, balance is not only about standing on one leg or balancing on a ball. It is dynamic, constantly changing, and about how we move from moment to moment, from activity to activity.
Are you intrigued? Then join us for our last March workshop, Better Balance, on March 19, 12-3pm. Follow this link for more information and to register.  Space is limited so register today to ensure your spot.