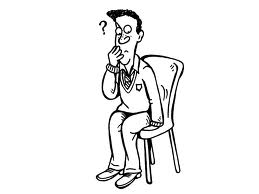 Do you sit most of the day at your desk working on the computer? 
Do you travel a lot in your car?
Are you tired of being uncomfortable?
Our skeleton is meant for movement.
Over the last century we have become much more sedentary. Instead of working primarily outdoors doing physical labor or engaged in other physical activities our work has moved us indoors and to a desk where we sit for hours on end.  Instead of walking everywhere, we sit in a car.
The new catch phrase is "sitting is the new tobacco".  We cannot sit for so long and maintain our health, we need to move more.
Sitting produces stress on our skeleton. When we sit for too long our lower back starts to feel tight, we start to slouch and round over and our head starts to move downward.
But sometimes we have to sit.  So we need to learn to do so more comfortably and dynamically. Dynamic sitting means we don't sit cramped into one position all the time, that we learn to sit with support from our bones and to constructively fidget at regular intervals.
In this workshop you will learn  strategies to help you to change how you sit. If you can sit more comfortably and with skeletal support you will avoid back, neck and shoulder pain, will miss less work time and won't have to  take pain relief medications.
Register today to avoid missing out, space is limited.
Sitting with Comfort – PAYPal Registration Sunday, October 15, 2017;  12–3PM
Sitting with Comfort – Cheque Registration Sunday, October 15, 2017;  12–3PM