Summer Feldenkrais Challenge
Summer is vacation time; many of us wait all year for our summer​ vacation.
I personally prefer to stay in Vancouver in the summer when the weather is finally nice.  However this year we are making a special late Spring/early Summer trip. On June 7 my  husband and I leave for Montreal to visit family and then onto Iceland where we are meeting up with 3 other couples, who are long time friends.
Iceland is a sparsely populated island nation. It's capital, Reykjavik, has a population just over 123,00 of Iceland's 330, 000 (2015 data).  We are planning on driving along the south east of the island for 6 days and then spend another 3 days exploring the western peninsula. We plan to drive, hike, explore, take ferries, dip into hot springs, and who knows what else!
Iceland will provide very different scenery and wildlife, unique geological features, a lot of wind and cold temperatures and a lot of daylight. On June 6, the sun rose at 3:07 am and set at 11:43 pm (close to midnight) providing only 3 hours of darkness. We will be there at the summer solstice; I wonder if the sun will set at all that day? It's culture is unique and rich, it is apparently the land of book stores, wool shops, live music and beer.
It has been many years since we traveled with a group. It is exciting to be embarking on a new challenge of a new and different country and cultural experience, as well as navigating the needs and preferences of 8 different people. I am beginning the adventure with an open mind and heart, and in addition to learning about Iceland and its' people and sights, I want to learn about myself and how I can co exist with others. I hope to use principles I know well from my Feldenkrais practice: taking things slowly, exploring without reacting or being negative, breathing, expanding and letting the little things go!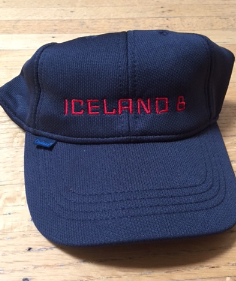 I had caps made for all of us to keep the wind and chill from blowing our hair and to shade the sun that we hope we see.  I will share a photo of all of us wearing our hats in my next newsletter.
Wishing all of you a warm, peaceful summer. I hope you have scheduled time for a meaningful break where you will do something to take care of yourself, mind and body.
You might include trying an Awareness Through Movement ® class or coming back if you have lapsed for awhile. Classes will be continuing in July and early August. I will also be providing individual Functional Integration® sessions, details are linked here