Summer Feldenkrais learning and fun
I am loving this summer!
Since I returned from Iceland over 2 weeks ago the weather in Vancouver has been spectacular!  Unfortunately there hasn't been any rain and the wildfires in the interior of the province are raging and wreaking havoc on peoples' lives.  After I wrote that sentence I took a break and gave a donation to the Canadian Red Cross BC Wildfires appeal (https://donate.redcross.ca/ea-action/action?ea.client.id=1951&ea.campaign.id=74010&_ga=2.173049383.542076928.1499809602-774805740.1499809602)
The dry warm weather is giving me the opportunity to enjoy a lot of outdoor activities such as gardening, cycling and walking. I am particularly interested in walking because it is the theme of this segment's study topic in the Feldenkrais advanced training program I am taking.  When I walk I pay attention to where my head is situated over my spine. If I am well organized I have the sense of gliding forward, using the power of my back leg rather than feeling I am fighting to stay upright or am being pulled back. I pay attention to the relationship of the forward leg and back leg and notice where my head is relative to each leg and when it orients itself over the front leg.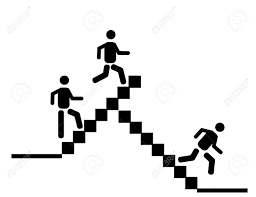 Walking up and down stairs has become a new thrill.  I have always preferred stairs rather than elevators, walking up whenever I can. There is a flight of 55 stairs at the end of our street; some nights my husband and I go over there and walk up and down numerous times. As a woman we saw last night remarked, "a cheap way to exercise." Walking up and down stairs is about exploring how to be most ex
fficient so that I feel I am walking up rather than hauling myself up. I pay attention to where my head is in relation to my spine so that I don't get a sense of it hanging back.  If my head is free to turn around in each direction I know I am in a good position. I notice if my full foot is landing on the stair as I climb up and I play with going down slowly, in a bit of a diagonal to protect my knee; I also explore almost running down.
All of these explorations and awareness come from my daily practice and teaching of the Feldenkrais Method.  I would love to teach you some new easy ways you can enjoy your favourite activities.  You can join a class anytime, here are details.
Be safe and enjo